A Race Between Worlds
Edit
Most elves look down on humans, thinking them too impulsive and too arrogant, especially for such a short lived race. As for humans, they view elves with something akin to awe, although individual elves often drive humans crazy with their "prudence", which seems to most humans nothing more than laziness. Still, every so often, the better qualities of each, elven wisdom and human inventiveness and drive, attract the other. From this mutual attraction come the race of half-elves. Belonging fully to neither world, they are a part of, and apart from, each.
Physical Appearance
Edit
Most half-elves take on the coloring of their human parents, the pointed ears of their elven parents, and a physical frame somewhere in between. Male half-elves can grow beards, something full-blooded elves cannot do. Depending on their heritage, they stand either a bit taller or shorter than humans, with half-Stelythian elves standing taller. They live about twice as long as humans do, but still far shorter than their full-blooded elven kin.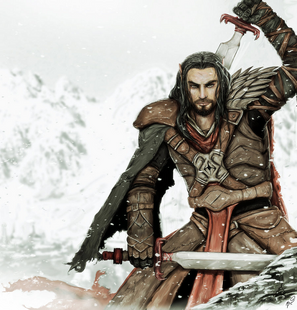 Half-Elven Characteristics and Culture
Edit
Half-Elves seem to personify the dual nature of their blood. They feel at home nowhere, but neither do they feel as out of place as a half-orc or tiefling might. Accepted in both human and elven lands half-elves make friends quickly, and with many people, but are close to few. There is a sameness to a half-elf that invites quick familiarity, but a difference that often prohibits a deeper connection.
Humans view half-elves with wonder, almost more than they do with full-blood elves. Half-elves seem so much closer to humans that the differences seem more unnatural and out of place. The same is not true of the elves, who view half-elves with pity, and their parents with shock. Most elves would not admit an attraction to a human, let alone act on it, which makes these offspring the result of a "lack of judgement", at least according to the elves.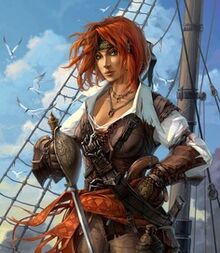 Most half-elves choose to wander, leaving behind their homes at a young age. Those who stay behind in human lands are often faced with the prospect of losing those they love to old age long before they begin to show signs of aging at all. Half-Elves are never really fully integrated into elven society, remaining on the margins, much the way bastards are in human lands. As such they also rarely remain in the company of their elven kin for long.
Those half-elves who embrace their human side often choose lives as merchants, travelers, adventurers, rangers, or any others who spend their lives roaming the world. Many half-elves can be found in the wilds far from civilization. Those who turn to their elven side often study the arcane arts, trying to gain the respect of elven society by excelling in something that most elves consider a cultural heritage.